Making special accommodations: Test and Quizzes
If you are using Sakai for online quizzing, there may be very good reasons for making special accommodations for one or more students in your class. Perhaps a student is registered with the Office of Accessibility Resources and Service and requests additional time for taking exams. Or, maybe a legitimate and unexpected event causes a student to miss an exam. For these situations you may wish to publish a quiz for only that student(s) to accommodate for their special needs.
There are 3 key steps:
1. Create a group for your student(s)
2. Duplicate your original exam
3. Publish a copy of your duplicate exam and make it available to only the group

1. Create a group for your student(s)
2. Click on Settings from the "--Select Action--" drop down menu (next to quiz you are releasing with extended time)
3. The settings you will most likely be modifying are: Assessment Introduction, Assessments Released To, Delivery Dates, Timed Assessment, and Grading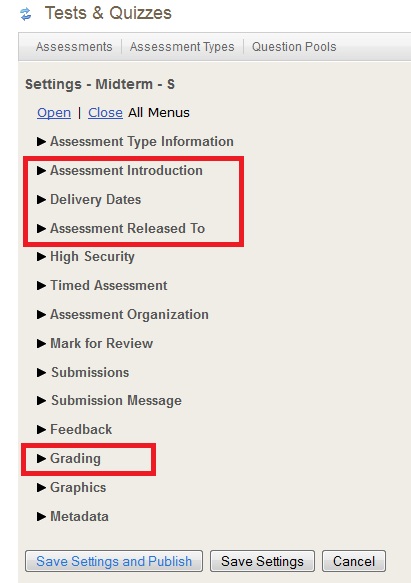 4. Change the title in Assessment Introduction (can not have two published quizzes with the same name)

5. Modify the Delivery Dates to align with accommodations.

6. Modify Assessment Released To by clicking on Selected Groups and then choosing the relative group(s).
7. If it is a Timed Assessment, you can extend the time.
8. Click on Grading*, even though it may be graded you do not want to associated this with the gradebook
If this same quiz, with different settings, has been previously released to all the students in this course, in the Grading section set the Gradebook Option to none. This way you will still see the grades for this quiz in the Test &Quizzes tool, but you will not create a new item in the Gradebook for just this sub-set of students, since one already exists for the entire class including this sub-set. After this group of students takes the quiz, you may manually enter in the Test and Quizzes tool, the grade for this sub-set of students in the grade area for the quiz published to the entire class.
9. Click on Save Settings and Publish to make the quiz available on the release date.