Quick-create your Calendar: Upload a Spreadsheet
Here is a very simple method for populating your Sakai site calendar for the entire semester: Create and upload a spreadsheet (.csv file).
Why use the calendar?
It helps orient everyone to important course events.
It displays in My Workspace and on the home page of your Sakai site by default.
Students report that they like seeing what is due each week.
Many faculty already have calendar events in a syllabus that could be easily copied to a spreadsheet.
You can always add individual events via the Calendar tool's Add option. However, you can also bulk upload events to the calendar via a spreadsheet.
Here's a very basic example .csv file you can download and edit in Excel: calendar-example.csv that looks like this:

Under the Type heading, you have many choices — each has a different icon that will display as shown in the image below: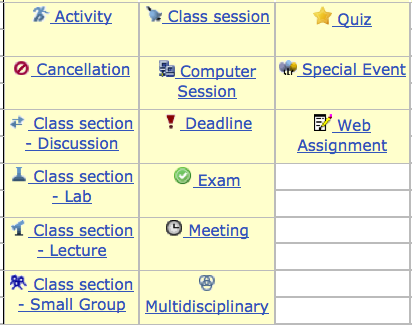 Upload Your Spreadsheet
Once you have generated your spreadsheet for the semester, you can upload via:
Calendar > Import > Browse to file
Gotchas?
If you make a mistake and upload a spreadsheet of events that have incorrect dates, you will need to manually remove the items from the calendar.
Best feature?
The next time you teach the class, you only need to change the dates and you can upload all events to Sakai in one-click!
Videos courtesy of UNC School of Medicine: