Replying to Discussions
A Category is going to be a broad term comprised of multiple Forums. In most cases, the instructor will create a Topic providing instructions and expectations. The Topic can be "Sticky" so that it always displays at the top of the list. Then students reply to the Topic, which is called a Message. When instructors create Topics that are reply only and sticky it becomes easier to see the thread of online discussions. It is still possible for students/instructors to reply to Messages.
Download detailed guide to using Discussion and Private Messages.

Reply to a Topic
1. Navigate to Discussion Home.
2. Click on a Forum title.
3. Select the Topic.
4. Click on Post Reply or Quote if you want to include all or some of the message in your reply.

5. Add content in the text box editor.
6. Click on Post to reply.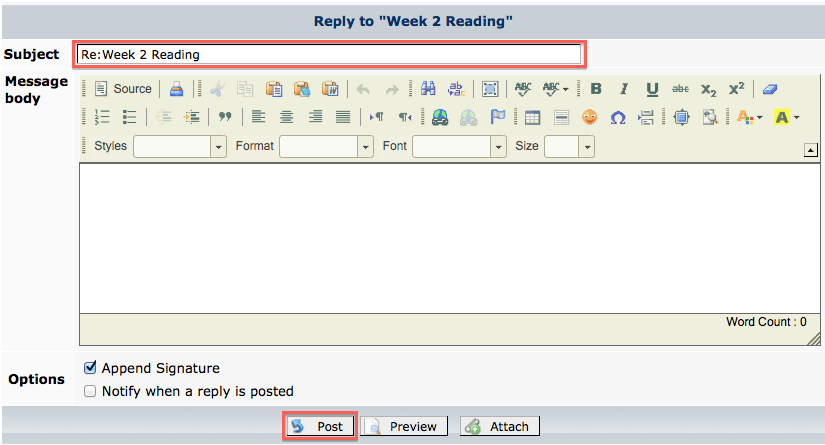 Send a Private Message
Private Messages do not show up on the discussion board and are only viewable by the recipient and user that sent the message. Be careful not to respond to Topics by clicking on PM, as it will not be the same as replying to a topic.
1. Navigate to the Discussion and Private Messages.
2. Click on Member Listing.
3. Click on the PM icon to send a private message.
4. In a Topic, you can also send a private message by clicking on the PM icon.


Read Private Messages
1. Navigate to the Discussion and Private Messages.
2. Click on New Private Messages.
3. Notice there is a (1) which represents how many new messages there are.
4. Select Message from inbox.